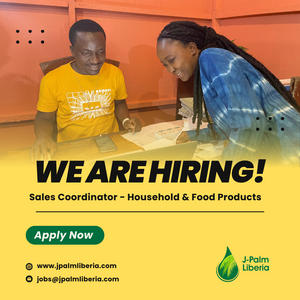 J-Palm Liberia (JPL) manufactures Palm Oil, Palm Kernel Oil and processes these oils into natural products for food, and personal care. J-Palm Liberia is expanding its product portfolio to include household and food products for the mass market. As such, we are recruiting an experienced and goal-oriented Sales Coordinator to oversee sales planning, execution, sales force management and reporting.  Sales Coordinator Duties and Responsibilities  Work with the Management team to develop and implement strategies and plans to expand sales by developing new sales channels Develop and manage strategies to effectively sell products across multiple channels and territories across the country Create...
---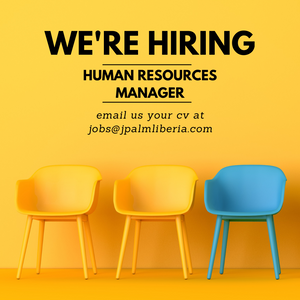 J-Palm Liberia (JPL) manufactures Palm Oil, Palm Kernel Oil and processes these oils into natural products for food, and personal care. JPL aspires to be a company on the cutting-edge of innovation in product design, manufacturing, sales and distribution. As such, we have to build strong internal systems to recruit the best employees, and to also develop internal initiatives to continue to train and re-train our employees. The HR & Administration Manager will be the senior executive responsible for implementing this vision of ensuring that our current employees have the support they need to successfully do their jobs, and also to...
---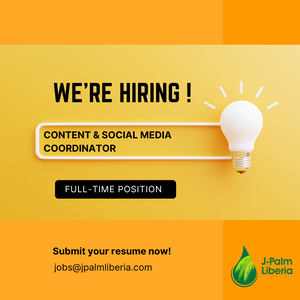 We are recruiting a creative, organized and energetic individual to coordinate Social Media marketing at J-Palm Liberia. We are in the process of launching some very exciting new products and brands, and so if you are someone who loves a challenge, is super innovative and creative, and is looking to work in a fast-paced environment, this position could be right up your alley!   The Content and Social Media Coordinator is responsible to: Liaise with the Sales Manager to create engaging content that communicate to our customers about our products' features and benefits Create content to drive awareness about any...
---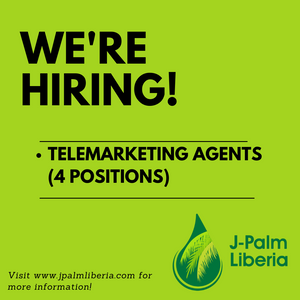 General Position Summary: We are looking for an enthusiastic Telemarketer to generate sales either by cold calling or answering requests in a fast-paced environment. You will be responsible for influencing existing or potential customers to buy products or services. A successful telemarketer must be friendly and persuasive. You must be able to understand the customer's requirements in a short time and present solutions that meet their needs. The ideal candidate will also be patient and cool-tempered to properly respond to customer's questions and and to handle customers' complaints.   Essential Responsibilities Cold call customers using a given phone directory to...
---
Truck Driver Duty Station: Gbarnga, Bong County J-Palm Liberia is a Liberian-owned company that manufactures products from palm oil and palm kernel oil. We have 3 vacancies for drivers who are skilled at operating a dump truck. The driver is responsible for the timely and safe transportation of raw materials from villages in Bong County to the company's central mill in Gbarnga. Drivers must also take accurate records of materials received and disbursed. Responsibilities: Take on assignments in other counties when need be Responsible for transporting raw materials from farms to factory, transport products, and company staff Record mileage before,...