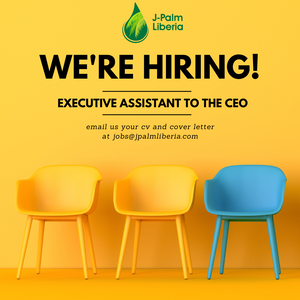 J-Palm Liberia is a leading manufacturer of natural personal care and food products derived from oil palm. Committed to sustainable and ethical practices, the company collaborates with smallholder farmers in rural communities to enhance the efficiency of palm oil and palm kernel oil production. These high-quality oils serve as the foundation for a diverse range of personal care, household, and food products. To learn more about our mission and products, please visit our website: www.jpalmliberia.com.   Position Overview: We are seeking a meticulous, articulate, detail-oriented, and proactive Executive Assistant to provide comprehensive support to our CEO. The successful candidate will...
---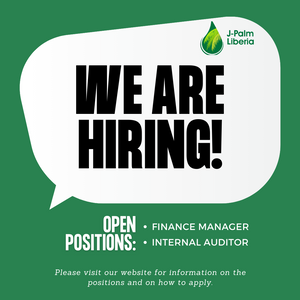 J-Palm Liberia (JPL) manufactures Palm Oil, Palm Kernel Oil and processes these oils into natural products for food, and personal care. We are hiring a talented individual with financial acumen, leadership skills, advance skills for financial modeling, proficiency in financial software for accounting, reporting and analysis to join our dynamic team. Position Summary The Finance Manager is responsible for company-wide budgeting, capital and asset management, trend analyses, medium-term planning and actual reporting of profit and loss results, financial ratio analysis, and KPI tracking. Responsibilities include, but are not limited to, creating/updating budget and trend documentation for presentation to shareholders and senior...
---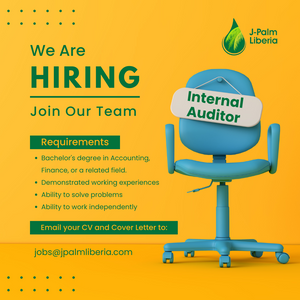 J-Palm Liberia (JPL) is a leading manufacturer of Palm Oil and Palm Kernel Oil, dedicated to producing natural products for food and personal care. The organization is committed to maintaining the highest standards of financial integrity, compliance, and operational efficiency. In line with this commitment, JPL seeks a qualified and experienced Internal Auditor to ensure the effectiveness of internal controls, risk management, and compliance with regulatory requirements. POSITION SUMMARY The Internal Auditor will be responsible for independently evaluating the adequacy and effectiveness of the organization's internal controls, risk management processes, and compliance with policies and regulations. The auditor will report...
---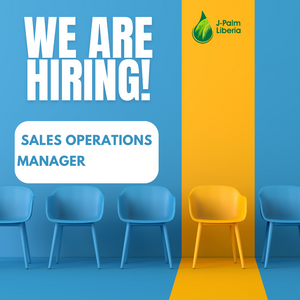 J-Palm Liberia, a dynamic and innovative company, is seeking a highly motivated and experienced Sales Operations Manager to join our team. This pivotal role involves spearheading the advanced planning and implementation of sales operations, focusing on customer journey optimization, new sales channel development, and overall sales and distribution strategy. Key Responsibilities: Sales Strategic Planning and Implementation Develop and manage customer journey maps for all Kernel Fresh sales channels Coordinate with other departments to ensure that day-to-day internal operations align with standards of excellence set for all touchpoints along the customer journey Create and disseminate periodic reports on performance along all...
---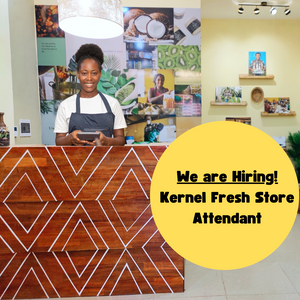 J-Palm Liberia (JPL) manufactures Palm Oil, Palm Kernel Oil and processes these oils into natural products for food, and personal care. J-Palm Liberia is looking for friendly and energetic individuals with passion for creating attractive displays, assisting customers, and managing inventory to occupy the position of Sales and Inventory Representative to join our team at our new branches at Red-Light Branch and at Duport Road. POSITION SUMMARY As a Sales and Inventory Representative at J-Palm Liberia, you will play a crucial role in ensuring the smooth operation of our store and service to customers nearby. Your responsibilities will include packing store items onto shelves,...